Flying Account (Debtor Account)
Select Flying Account from the View Menu to view or adjust debtor transactions.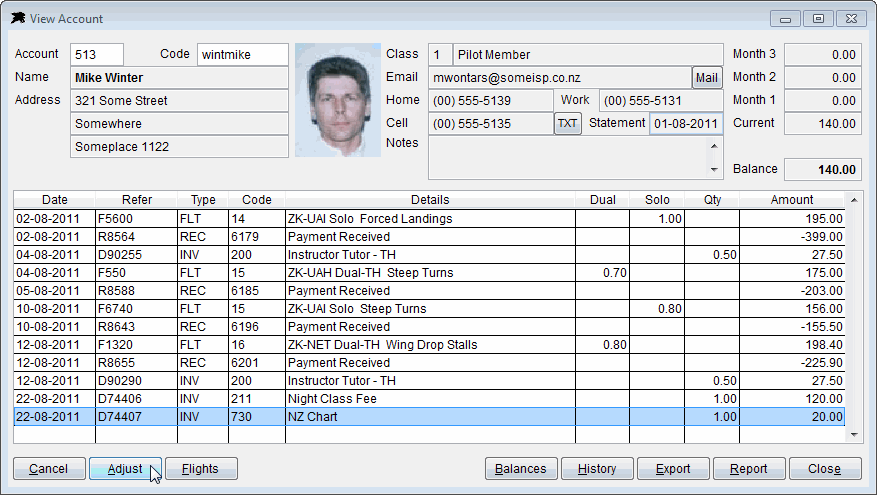 The 'Mail' and 'TXT' buttons on the contact area allow you to quickly send email or text messages (if you have the option installed in your package) to your customers. The Mail button will open your normal email screen.
The 'Adjust' button will take you to the Transaction Adjustment screen where you can quickly credit or make minor modifications to flights or other invoice transactions.
The 'Flights' button will take you to the same flight listing options found on the Pilot Information screens.
The 'Balances' button allows you to adjust the aged balances if a receipt was posted to the wrong month. You cannot change the total balance with this button, only the aged monthly totals which must still add up the balance owing.
The 'History' button quickly loads all previous historical transactions into the viewing grid. Only the current month transactions are displayed when you first open an account enquiry.
The 'Export' button is a quick link to allow you to export the current displayed account transactions to a Html (Web Browser) format file which can be attached to an email message. This is a quick way to send a customer his/her account transactions if required. Note: Most reports can be exported using the format options located on the right side of the Reports Menu.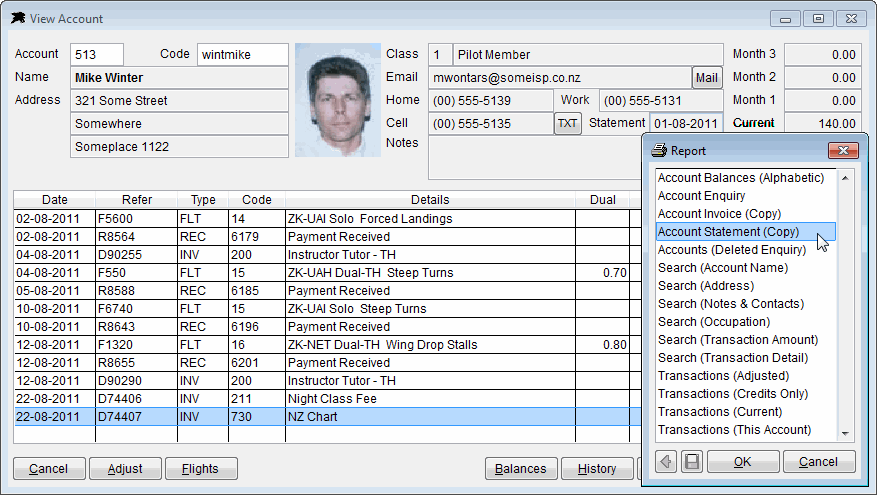 The 'Report' button will list the available Debtor File related related reports here. These and other reports can also be accessed from the Reports Menu