Flight Authorisation
Select Authorisation from the Flightops Menu to access the Flight Authorisation section.
This function is not designed to replace your normal Instructor flight authorisation procedures however, it can be used to assist in credit control and to give you access to several flight and pilot related warnings on one simple form. This option can be used by your counter staff to check that the pilot and aircraft are suitable to fly. The Booking Sheet editing screen has a button named 'Authorise' that will automatically open this form if clicked or the account number and aircraft registration can be input manually at any time.
This screen is linked to the Maintenance System, account files, Defect Reporting system and Pilot Information systems. If used to its full potential it will return a substantial amount of information with the click of a few buttons.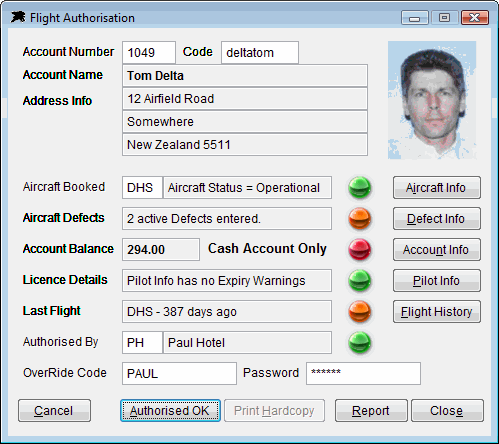 In the sample above, the aircraft defect system is showing an 'amber' warning that 2 defect items have been input, the pilots account needs to be paid before he can fly (because he is set up as a Cash account holder), the Pilot Information System is reporting no problems. His most recent flight was over a year ago. He has been authorised to fly by instructor PH and this can simply be a verbal authorisation as required. The form is asking for an override code (normal Login Code) and password from a supervisor or manager because the pilots account is flagged Cash Only but it is in debit. Therefore, the authorisation is not able to be accepted until a login code and password allows this flight to proceed. You can print out an authorisation document if you wish.