Transaction Adjustments
Due to the complex structure of flight transactions, it is not possible for us to give you editing options for these transactions after you have input and saved a flight to an account file. The accounting and statistical data linked to each flight must be completely reversed and re-input if there are any mistakes on the entry to ensure all historical aircraft hours, pilot hours and costing information is correct. After incorrect flight transactions have been credited, you will need to re-input the details correctly.
Note: When re-entering corrected flight transactions, you should enter the total flight time into the 'Hobbs' or 'Airswitch' meter field as a negative value to skip the meter reading validation. Negative figures are input in these fields to indicate 'Stop Watch' time or total flight time ignoring the current aircraft meter readings.
To credit or repair a flight or item transaction - Use the View Menu to access the View Account (Account Enquiry) or click the 'Enquiry' button on the Flight Transaction form.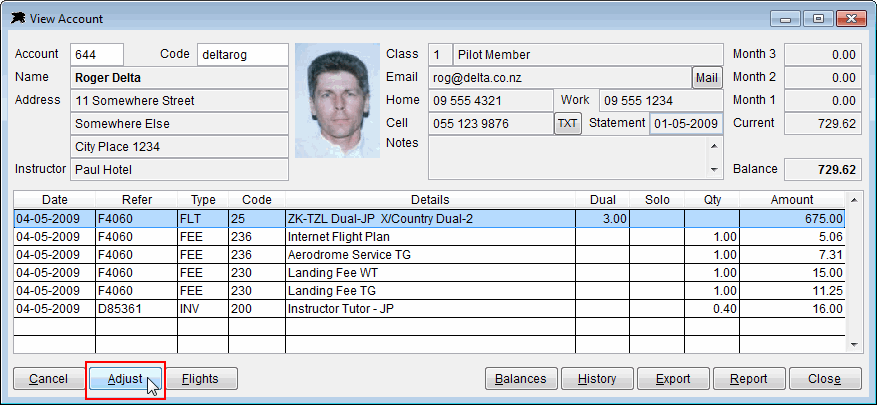 Highlight the required transaction on the account enquiry screen and click the 'Adjust' button...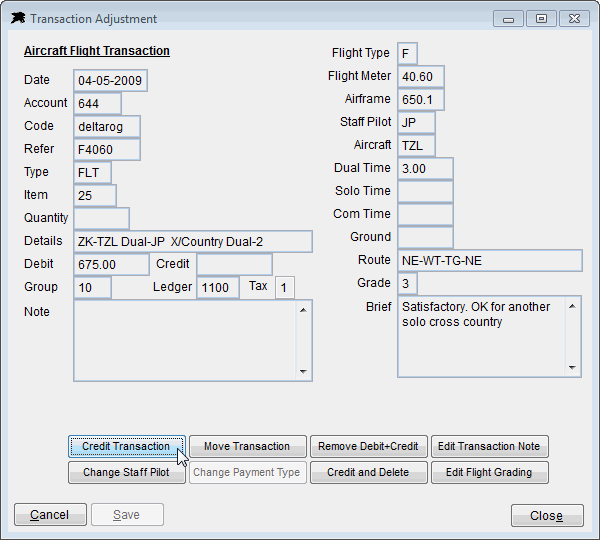 The adjustment option will allow you to Credit or Move the transaction, Change the Staff Pilot (Instructor Code) only or edit notes or flight grading.
Note - If an adjustment option button is 'grayed out' then it is not avaliable for the particular task for that transaction. There are strict rules in place for editing or modifying transactions to ensure the validity of the accounting data. Only some minor changes can be made to transactions. If you do not have an option button, the transaction must be credited completely and re-input correctly.
Historical transactions cannot be edited or modified. The end of month procedures are finalised when the update is run to close off the accounting period. Any adjustments to historical transactions require a credit note to be raised in the current period and the item re-entered correctly in the current period. However, you are able to use the original historical transaction date even in the current month to re-input corrected items.
The Adjust button works also on Item Invoice transactions, however you cannot use it to reverse a receipt entry or a credit entry. To cancel incorrect or invalid receipts, go to the Receipts screen and input a negative receipt value.