Introductions File
Select Introductions from the Flightops Menu to access this option.
The introductions file is a separate database where you may load and track prospective students or customers. This file allows you to track an interested person and enter follow up dates and other information as required. This information can also be copied automatically into a new account if the student signs up for flight training at a later date.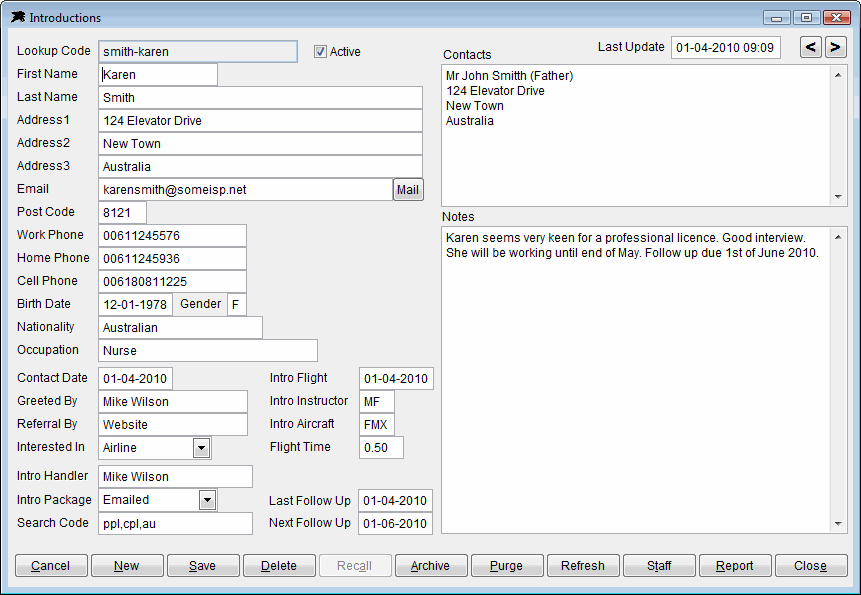 Click the 'New' button to add prospective students to the introductions file. The software will automatically create a lookup code after you input the persons first and last names.
The tracking details are straight forward and the report button has various tracking reports available.
The Introductions database is made up of a 'current' file and a secondary 'historical' file. Each introduction record can have a status of 'Active', 'Closed' or 'Archived'. Active and Closed records reside in the 'current' introductions file and Archived records are kept in the historical file. The 'Lookup Code' selection list will display the status of each record. You can choose and display Archived records on screen but you will not be able to edit them unless the record is recalled into the current file as an 'Active' item.
The Archive button will move any records curently set to 'Closed' status into the historical archive file. To close a record, you simply 'un-tick' the Active status beside the lookup code and save the change. You can use the Archive button at any time to move all closed records into the historical file. Note - The archive procedure will not run if other users have the Introductions file open. The best time to perform an Archive is after hours when other users have logged out of this software.
The Recall button will only become available if you have loaded an 'Archived' record on screen. If you click the Recall button, the archived record will be moved back into the 'current' Introductions file and will be reset to an 'Active' status.
The Purge button allows you to completely delete a selection of old archived records based on a chosen date if you wish. This option can be used to reduce the size of your archived database if it becomes too large to scan and process.
The Staff button on this form will open the staff name file to allow a contact persons name to be added to the system. This file is not related to the Staff Pilot file and is only used for the Introductions screen where 'Intro Handler' and other names are required. (Having a file for these staff contact names prevents spelling mistakes when names are input on this form).