Flight Planning System
Select Flight Planning from the Flightops Menu to access the Copilot System - Flight Plan function.
Would you like a personal flight planning software copy ? - The Copilot flight planning module is now available as a stand alone application and may be purchased by anyone for personal use - Jump to Datahawk Flight Plan to view more details.
The Flight Plan Function is a utility program originally designed to allow flight instructors to quickly check student flight plans before authorising the relevant cross country flights. However, it is also useful as a cross checking navigation utility for qualified pilots or staff to check their own manual flight planning procedures.
Because this software calculates tracks, distances and flight times based on navigation co-ordinates loaded into a user accessible navigation file, Datahawk Software cannot control the validity of this data that may be modified by users, therefore it is mandatory that output from this system is used only as a cross check against your approved flight planning procedures. It must not be used as your primary navigation tool. However, with that said, the output is very accurate if the navigation co-ordinates are verified as correct...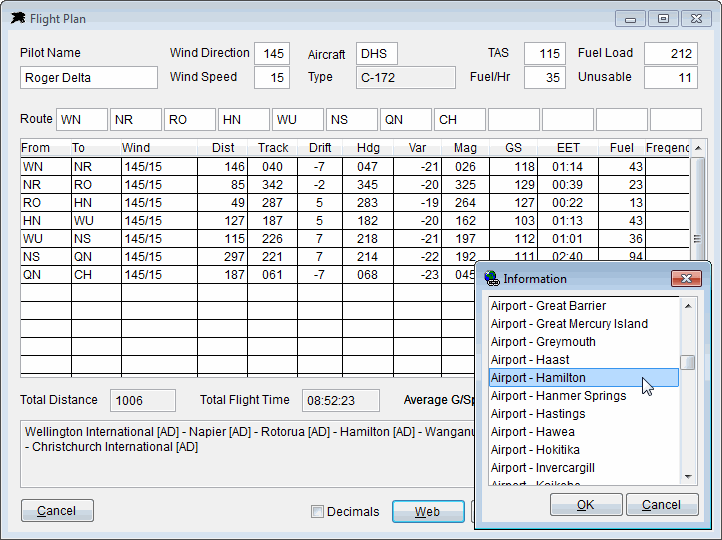 A plan is very easy to produce. Simply input the primary wind direction and speed, enter the aircraft registration (if it is loaded into the aircraft file, then the TAS and Fuel factors will load automatically), then simply input the required aerodrome or navigation aid codes. The output grid is produced automatically. You may edit the Wind and Variation on each leg as required.
The Web button will access the built in information file that we produce and maintain for relevant aviation links and info. This database holds information on Aerodromes/Airports, Aero Clubs and Flight Training organisations. Ctrl-Clicking any link will open the relevant web page in your own browser.
The flight planning 'Map' button will draw your route onto a basic map of New Zealand....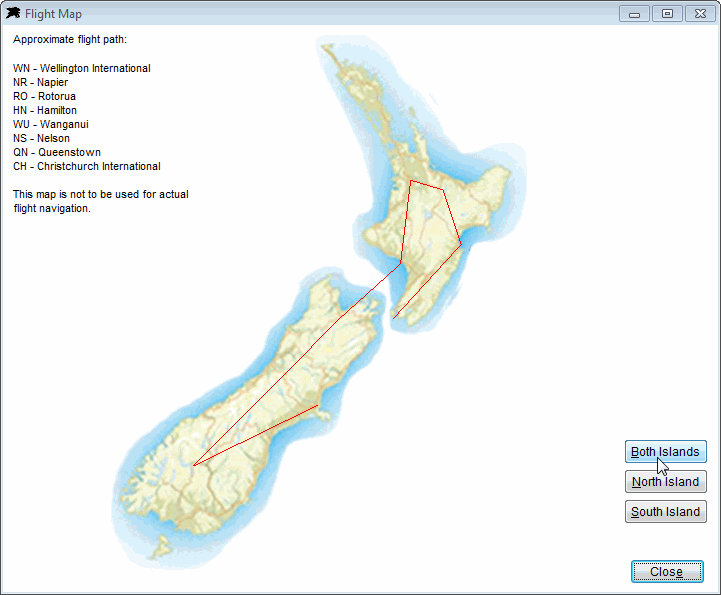 Finally, the Report button will produce a printed Flight Plan and Flight Log if desired....