Aircraft Maintenance Overview
Select Maintenance from the Flightops Menu to access the Aircraft Maintenance Tracking system.
This module can be used by your Maintenance Controller to monitor aircraft components and scheduled checks for your fleet aircraft. This system will also provide warnings for operational staff and pilots if items are nearing service or inspection due dates or hours. You can view the Maintenance Tracking System Manual for detailed operational information.
You can also read the instructions for initally setting up maintenance tracking on the Maintenance System Set Up page which will show you how your first aircraft should be loaded into our software.
The example shown below has an 'amber' alert on the aircraft routine 50 hour inspection (because there are less than 10 hours to run) and a 'red' warning on the ELT safety inspection date because it is very close to the due date. The alert values (amber or red) may be set on individual maintenance items to highlight various specified days or hours remaining to run. This clearly highlights urgent items. The yellow alert is for a current Airworthiness Directive for this aircraft. Green fields indicate missing date or hour values that need to be entered and saved.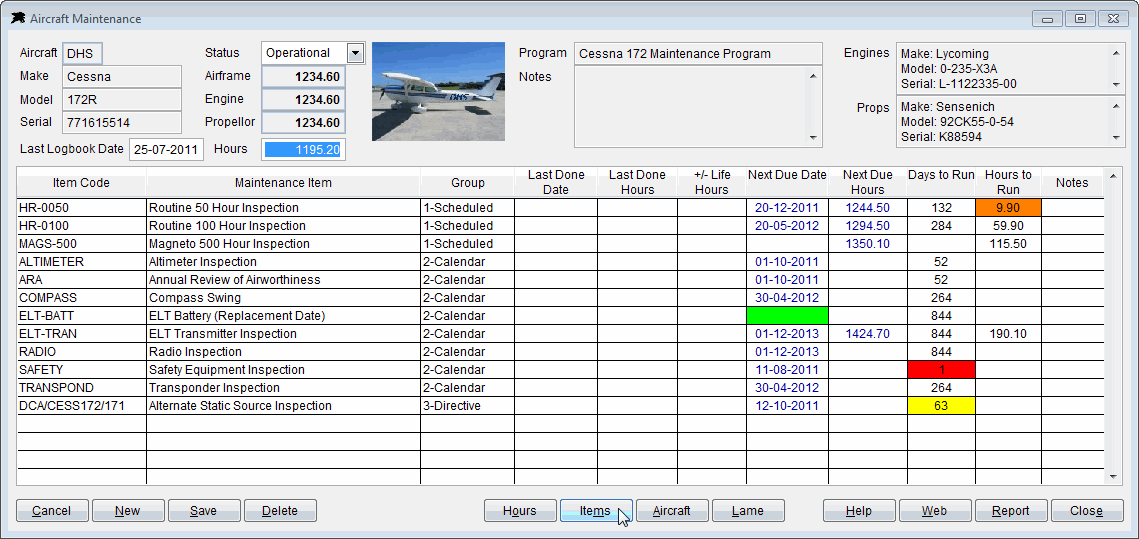 This form can display an individual aircraft or the entire fleet simply by inputting 'ALL' as the aircraft registration. Adding a new aircraft to the maintenance tracking system is a simple process and a feature that we supply allows you to quickly copy the maintenance items from another existing aircraft that is already being maintained. Dates and hours last serviced are updated by entering data into the blue coloured fields.
There are two methods of using the maintenance tracking system. The 'easy' method simply requires that you input the 'Next Due Date' or 'Next Due Hours' values as in the example above. You can see more information on this method on the Easy Maintenance manual page. There is also an advanced method where you can input the 'Last Done Date' or 'Last Done Hours' and have the system calculate the 'Next Due' values. These options are set in the 'Maintenance Item' file (see below).
The Maintenance Item Codes are created and stored in a file where your controller can set up the required hours or months to run and amber or red warning times as required. This file can also hold all Airworthiness Directive (AD) information for each make and model of aircraft that you operate.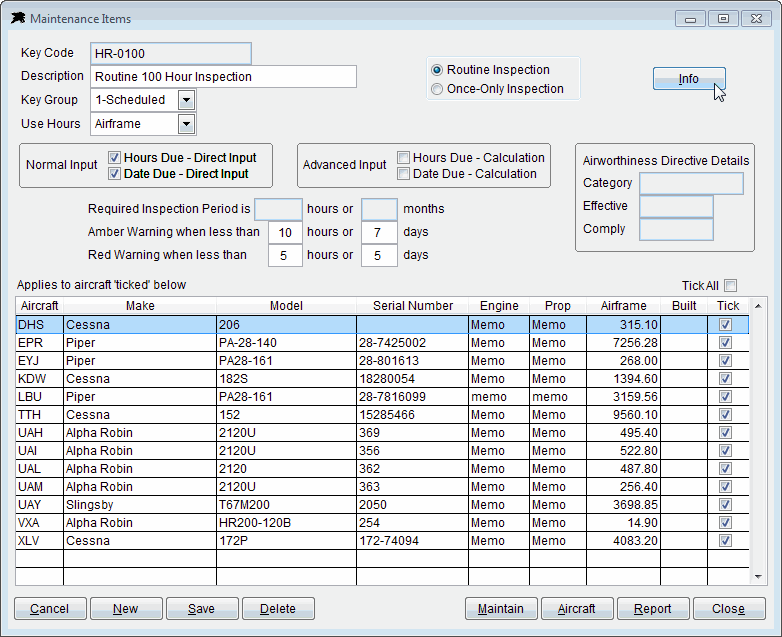 For each Key Code, you simply 'tick' the aircraft on your fleet list that require the selected item and the item is automatically added to the maintenance list of the chosen aircraft. This design means that you do not have to edit each aircraft maintenance list when you need to add or modify a required maintenance tracking item.
Airworthiness Directive information may also be stored directly into the Maintenance Item file. In the example below, a Cessna only directive has been created. Effective date and compliance date has been input and only the Cessna related aircraft have been ticked.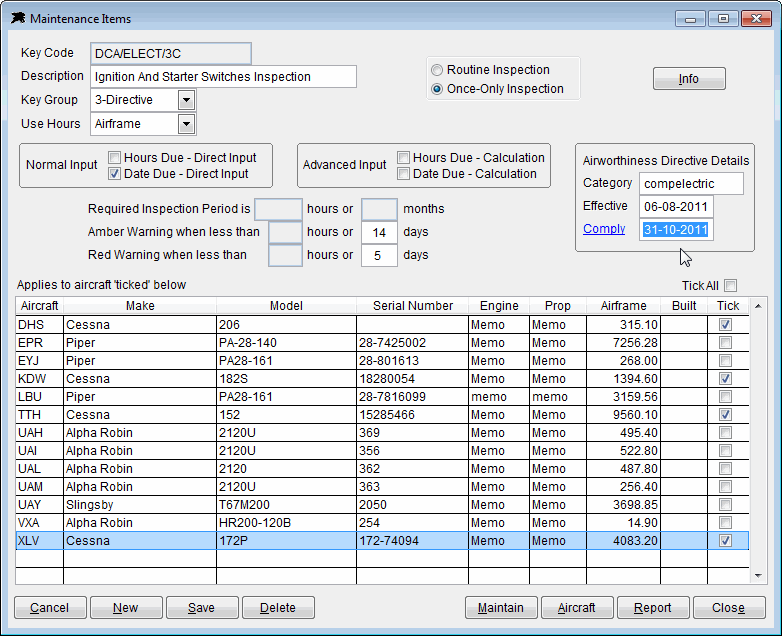 You may also type in or cut and paste relevant directive text information from the AD online documentation and even store web links directly into this file via the 'Info' button for quick information lookup.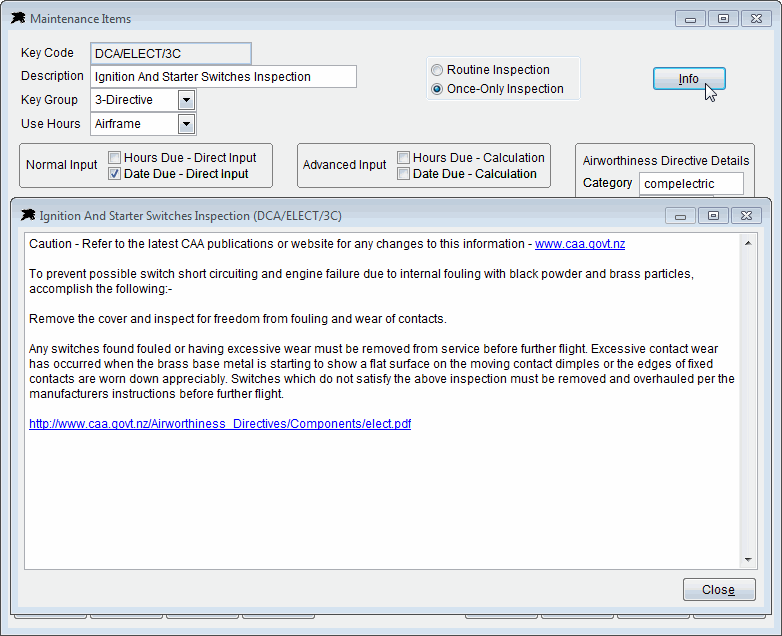 The Aircraft File stores the primary maintenance information along with the current hours. Conversion factors are available to convert tachometer readings to airframe hours where new or replacement meters have been fitted.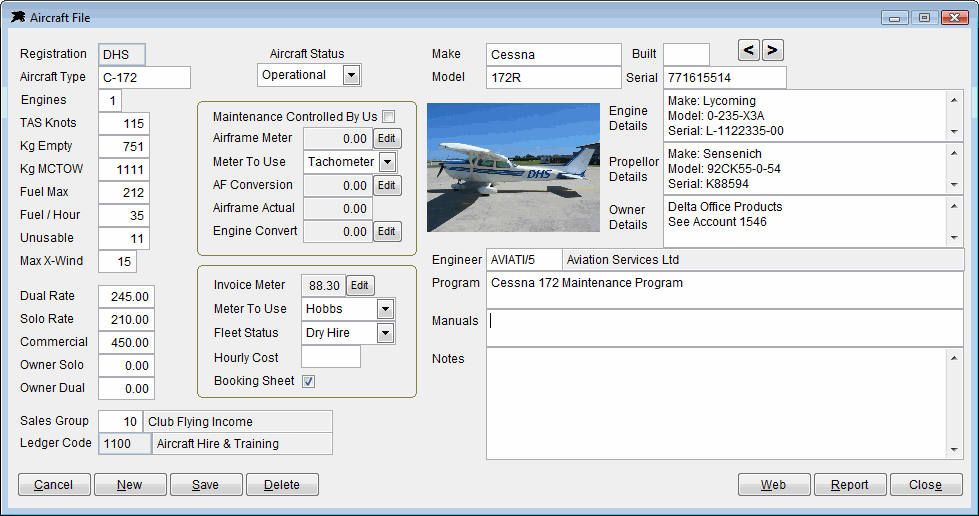 There are many attached reports and documents for the Maintenance Tracking System. A sample report for checking meter readings is listed below.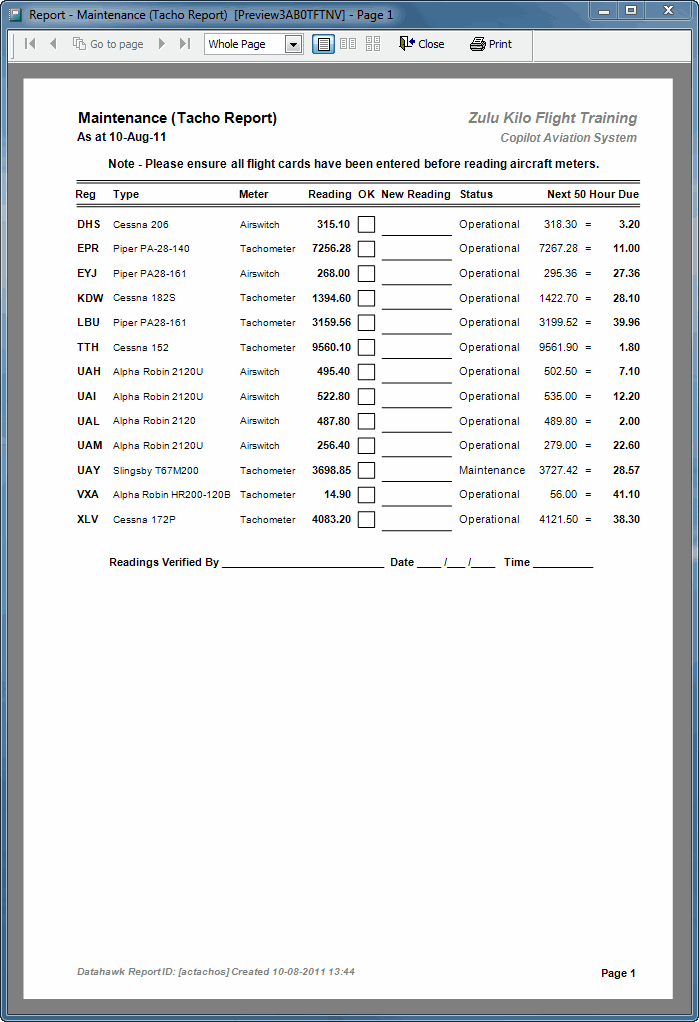 The Maintenance system is integrated into the Flight Operations files to provide warnings to instructors and staff if aircraft are nearing required service checks. For example, the Authorisation Screen will display maintenance warnings for the selected aircraft.