General Ledger Accounts
To add, view or edit General Ledger accounts, select the General Ledger option from the File Menu or the View Menu.
The ledger account layout may be set up how ever you wish but the normal pattern is to set up your trading and cost of sales accounts at the top of the ledger, followed by the Profit and Loss accounts then the Balance Sheet accounts at the end of the ledger in the 9000 number series. The flow is simple to follow and allows the accounts to add 'through' the accounts from 0001 through to 9999 in an orderly fashion.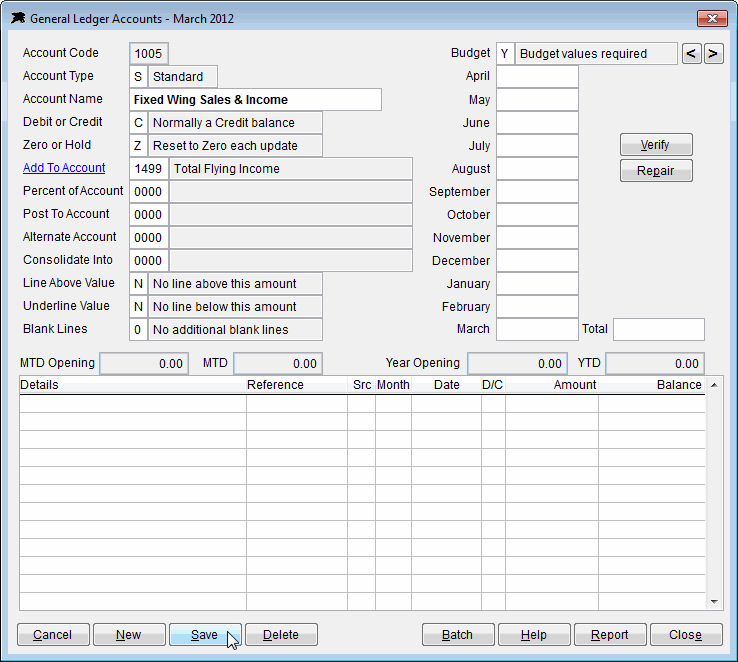 Datahawk staff will normally pre configure the General Ledger for you and assist you in setting up income and expense codes that link to the ledger accounts. You may add or edit other accounts as required. The ledger also provides budget reports based on your input into the budget fields on the right side of the screen should you wish to use it. Monthly posting values will appear in the list in the lower part of the screen as batches are posted.
Account Code also known as the 'GL Number' is a 4 digit number between 0001 and 9999.
Account Type can be set to S-Standard (a normal debit or credit ledger account), H-Heading (a report heading or ledger section heading line only) or T-Total (a total account for the summary ledger totals and subtotals)
Debit or Credit sets the 'normal' expected state of the ledger account. Any ledger account can hold debit or credit balances depending on the current state of the transactions. This setting tells the software how to display the values in the selected account on various reports. For example, the account above is a normal income trading account so the Debit/Credit setting is C-Credit. If this account goes into debit for any reason, the reports will show the account balance as a negative figure. You would set your balance sheet accounts to the required settings where assets would normally be D-Debit accounts and liability accounts would be set to C-Credit.
Zero or Hold account settings depend on the position of the account in the ledger chart. All 'normal' trading accounts and profit and loss accounts will normally be set to Z-Zero. When the General Ledger is updated each month, zero accounts will have their balances reset to zero for the new month or new year. H-Hold accounts are not reset to zero and are used for your Balance Sheet accounts, Brought Forward accounts and Opening-Closing Stock Accounts where the accumlated balance needs to be retained for the new month or year.
Add To Account will always be a higher numbered GL account that is set to T-Total Account. All S-Standard accounts and other T-Total accounts should always have a valid 'Add-To' account in the General Ledger. The software will make an educated guess and insert a valid add-to account number here when you are editing the ledger chart. Just check and choose a different total account if required. The General Ledger software calculates results by adding the account balances starting from account 0001 through to account 9999. The calculation function skips any H-Heading accounts and processes all standard and total accounts to produce the final reports.
Percent of Account is an advanced option to print percentages beside various account balances when they are compared to the balance of a total account. You can enter the required total account number here to activate this feature.
Post To Account is a special setting to control the destination account of a value that has to be moved from a closing balance position to an opening balance value. This is used on Stock accounts where you may have an opening and closing stock value. It is also used for controlling the monthly and yearly profit bought forward accounts. If in doubt, leave this account set to 0000.
Alternate Account is another advanced special account to control the destination balance of a particular account. It can be used to automatically move a ledger balance from an asset account to a liability account in the Balance Sheet section as the value changes. For example, this option can be used to move the 'Bank Account' balance as it changes from credit into overdraft and back to credit. The alternate account setting will display the overdraft balance in the liability section of the balance sheet or move it back to the asset section if it goes back into credit. Datahawk staff can assist you with these settings if necessary.
Consolidate Into is yet another advanced account option to allow consolidation of various other subtotal accounts into a separate grand total account. It is not normally required because the flow of T-Total accounts enable consolidation automatically. If in doubt leave this set to 0000 also.
Line Above Value - Input a '- (dash)' or '= (equals)' sign here to draw a line(s) above the value in this account. Used for 'over-lining' T-Total account values or H-Heading account names where required on reports.
Underline Value - Input a '- (dash)' or '= (equals)' sign here to draw a horizontal line(s) below the value in this account. Used for 'underlining' T-Total account values or H-Heading account names where required on reports.
Blank Lines is used to control line spacing on the ledger reports for cosmetic purposes. Just enter the number of blank lines to advance before this account is printed. You can also type the letter 'P' into this field instead of a digit to force a new page to start at this account number.
Budget Values is an optional section where you can insert monthly budget values if desired. There are Budget report options available in the system.
Verify and Repair Buttons - You should always click the Verify button after adding or editing any General Ldeger accounts to have the software check the ledger structure is correct. It will report any problems with Add-To accounts or invalid account numbers. The Repair button should only be used if you have a ledger variance due to a mistake made with the ledger account settings. It advises that you should contact Datahawk before running this option. We can take a look at your ledger and advise the best repair solution.
If the ledger is set up correctly, it will run almost automatically and only requires that the monthly batches (that are produced by the Debtors and Creditors systems) be posted after they are checked or adjusted for any other one off journals that may be required.
Note - The Datahawk ledger does not need individual accounts for each aircraft in your fleet. The Debtors, Creditors and Aircraft Costing functions built into this application provide very detailed revenue and cost reports for each aircraft so it is not necessary to have complicated 'cost centre' General Ledger account blocks for individual aircraft (or Instructors). In the example above, a single revenue account for total sales and income from all aeroplanes is all that is required here. By default, we usually set up a separate income account for all Helicopter Sales and Revenue.
Chart of Accounts
When the cursor is located in the 'Account Code' field, you can click the underlined link to show the current chart of accounts as per this sample...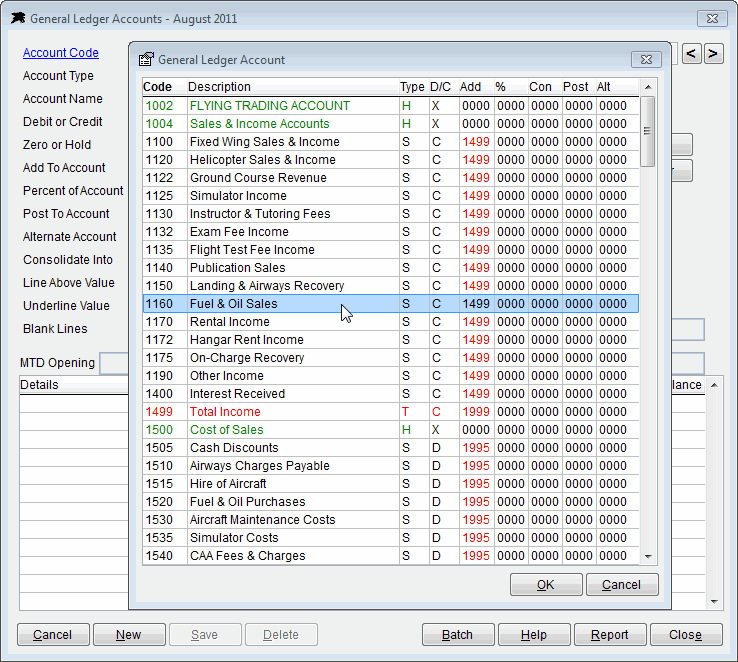 The 'Add' column ('Add To Account' field above) is the most important item in the ledger and shows you which total account (Total accounts show in red, Heading accounts show as green and Standard accounts black) the figures in your selected account will add into. The ledger has extensive advanced options for percentage, consolidation, post to and alternate account posting functions. Once again, Datahawk can assist you with specialised requirements or setting up your ledger accounts.
To print your current chart layout, you can click the Report button and choose the GL Report (Chart Setup) option or you can print the GL Report (Full Report) and answer 'N' to the 'Exclude Zero Balance Accounts' question and you will get a full GL report based on your current chart set up.
The Datahawk ledger system comes with a range of reports. Here is a sample Trading, Profit and Loss and Balance Sheet Report to show you the layout.